Hostfamilies.org and the Florida Collegiate Summer League Join Together
We are delighted to announce that hostfamilies.org and the Florida Collegiate Summer League (FCSL) have joined in a partnership. This partnership's main focus is to help the players find host families while they pursue their dream of making it to the Major Leagues while offering our host families a short term hosting opportunity.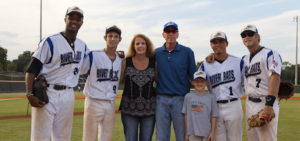 Families who are interested to host a student now have the option to host a student for only ten weeks during the summer! This is a great short term option with many benefits. All we ask from families is that you provide the players with a place to stay, a washer and dryer, and a few meals each week as their finances are stretched thin being collegiate athletes. In return families will not only gain a son for the summer but they also will be given season passes and have the option to receive $50 each week as a financial compensation. Families of the FCSL form incredible bonds with their players that extend past the ten weeks.
"This partnership enables us to offer our families more hosting opportunities as well as helping out collegiate athletes and the community making our program even more unique. We strive to be an organization that offers programs for any family that wants to host and this is just another way to get more people involved and help these young men pursuing their dreams,"  explains Michael N. DiMauro, CEO of hostfamilies.org.
Entering its 13th season, the FCSL will give 168 college players the opportunity to compete this year. The League also provides positions for 24 coaches, more than 30 summer internships for college students and recent graduates and fun for families in the area. Finding host families for these young men is crucial to the continuance of the League. In the past, 287 former FCSL players have been drafted by the MLB. The League has a 45-game schedule per team and all games are played at night. This is done to allow players time during the day to work, attend summer classes or condition on their own. The night schedule is also conducive to attendance by families.
Rob Sitz, President of the League stated, "we at the FCSL are thrilled about this partnership. Through hostfamilies.org resources combined with our own we will be able to find incredible host families for our players while offering a great opportunity for the members of our community."
The Florida Collegiate Summer League is looking for host families now for their 2016 summer players. Throughout its 12 years, families have repeat hosted and come together to help the players and created a unique 'family' amongst themselves. Former families have found hosting players richly rewarding and consider it to be a life changing experience. The Triplett Family has hosted Players for the past 7 years and each year their family expands with the addition. "Baseball is one of the purest sports out there," Jeff Triplett said. "When I got to know the whole [FCSL] group, [hosting players] just seemed like the right thing to do." Jeff's two sons, Riley and Chase, learn more than just baseball from their 'older brothers' each summer and created bonds with them that extended past the ten weeks. "They really are my second family. Riley and Chase are my little brothers," Frazier, one of their former players, said.
Interested in hosting or learning more? Click here to get more information and apply!
The Florida Collegiate Summer League was founded in 2003 to provide a place in Florida for college players to hone their wood bat skills against top-level competition, in a festive community environment. Partially funded by Major League Baseball, FCSL is a non-profit 501C3 corporation. For more information please visit our website at www.FloridaLeague.com