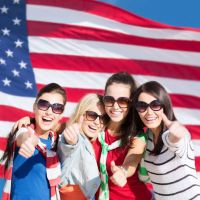 Hosting an international student is a life changing experience! Our families have a strong desire to welcome a foreign student and help them experience and learn the American culture.
Many international students prefer an immersive experience: the combination of a public or private day school and the opportunity to live with an American family. These options are by far the most popular since they offer the highest percentage of American fellow students in a school and have the opportunity to experience first-hand American culture.
Aside from helping a student, families learn from hosting an international student just as much as the student does. American families who choose to become a Host Family find they learn about their students culture, its values and traditions and language. Often, by the end of the program, families feel they have gained another family member and lifelong friend in the student.
Host an exchange student today!
Host Family Search by State
Host Families Search by City
To learn more about LPI Learning, please visit: http://lpilearning.org/